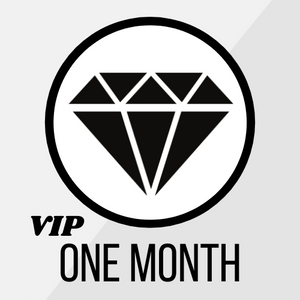 VIP One Month Package
Receive One Month (30 days) of our VIP picks. 

Expect 1-10 plays each day for 30 days. Over the last 3 years, we are profitable in 30/36 months.


What is Jolee Picks?
We are a group of four professional sports bettors that have over 50 years of combined experience. We have over 35 different models that cover NFL, NCAAF, NBA, NCAAB, MLB, NHL, PGA and more. 
We model every game in major sports and create our own lines. Our bankroll management system is one of the best money can pay for. We have profited in 12 of the last 13 months with an average ROI of 8% per month. The number of picks will vary day to day but expect 1-8 picks each day.
College Basketball is our most profitable sport and we have a 61.4% win rate over the last three years.


We use a 1-3 unit system with 1 unit being 1% of your bankroll. Our 3 unit plays are our max bet whale plays. Our max bet record is 85-51-1 over the last two years (62.5%).


These are not guaranteed winners, but they are  statistically proven to win YOU money. Please READ our Terms & Conditions page along with our Privacy Policy Page. In completing your order, you are agreeing to these terms. 
***MAKE SURE THE EMAIL YOU SIGN UP WITH IS THE EMAIL YOU WANT THE PICKS SENT TO. 
Picks are emailed each day at least 1 hour before our first pick. Sometimes, there are multiple cards sent out through the day so please watch your email.

We post on our Instagram and Facebook each time picks are released. TURN NOTIFICATIONS on if you want to know when picks are released.

If you see picks are out and you still have not received, please check your spam/junk mail. They will randomly go there sometimes even if they haven't been going there previously.

If picks are out and they are not in spam/junk either, please message us on Instagram at jolee.picks with your order #, name, and email address to get picks.