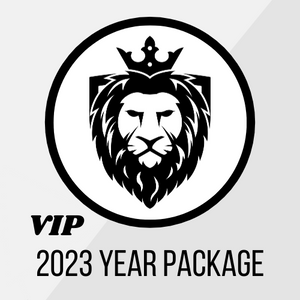 VIP 2023 Year Package
Receive all of our picks for the 2023 Calendar year. This will include our 5 unit bomb plays and 3 unit whale plays. Our system is 1-5 units with 5 units considered a max play. 



2022 Results:
915-773-19 (55%) for +125.83 units
$25 unit bettors = +$3,145.75
$100 unit bettors = +$12,830.00
$500 unit bettors = +$62,915.00
Profitable in 9/12 months.
The number of picks will vary day to day but expect 2-5 picks during the week and usually 5+ picks on the weekends. 
These are not guaranteed winners, but they are statistically proven to win YOU money. Please read our Terms & Conditions page along with our Privacy Policy Page. In completing your order, you are agreeing to these terms. 
***MAKE SURE THE EMAIL YOU SIGN UP WITH IS THE EMAIL YOU WANT THE PICKS SENT TO. 
Picks are emailed each day at least 1 hour before our first pick. Sometimes, there are multiple cards sent out through the day so please watch your email.
We post on our Instagram and Facebook each time picks are released. TURN NOTIFICATIONS on if you want to know when picks are released.
If you see picks are out and you still have not received, please check your spam/junk mail. They will randomly go there sometimes even if they haven't been going there previously.
If picks are out and they are not in spam/junk either, please message us on Instagram at jolee.picks with your order #, name, and email address to get picks.